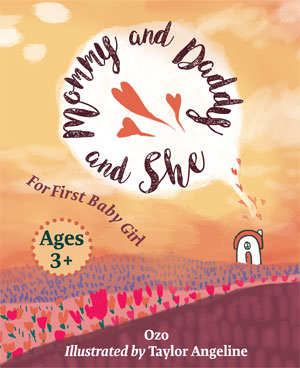 Mommy and Daddy and She is a fun nursery rhyme for first baby girls. It focuses on the Mye family's love for one another as seen through the eyes of the daughter, She Mye.
This book can be read to a girl three years old and up. As she grows she can then read it to her parents. The tongue twisting rhyming will help improve her reading skills, and the comforting words will make her feel safe and loved.
The more loved and safer she feels the better her emotional and physical health will be throughout her life. Families with love for each other are the happiest!
Each scene includes a game where she can find The Family of Three Hearts.
Illustration by: Taylor Angeline